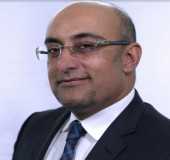 Honors Dr. Hasib Mikael Sarij
Health Services
Pain Management
Feb 11, 2021
Dr. Hasib Mikael Sarij earned his M.D. at Ross University School of Medicine, his residency at New York Presbyterian/ Queens, Flushing, he completed a fellowship in Pain Medicine at Memorial Sloan Kettering and a Fellowship in Interventional Pain Medicine from Harvard Medical School and Brigham Women's Hospital. He is a Physician at Integrated Spine & Pain Care, located at 1111 Broad Hollow Road, in Farmingdale, New York. He has been named Top Doctors many years in a row. Dr. Sarji is the Founding Member of the NY Pain Society and President of Integrative Spine and Pain Care.
About Hasib Mikael Sarij M.D.
Board Certified in Pain Management
Name: Hasib Mikael Sarij M.D.
Phone: (516) 336-8659
Related Links
https://www.integratedspineandpaincare.com/


View User Profile

Other Press Releases By Hasib Mikael Sarij M.D.
Honors Dr. Hasib Mikael Sarij